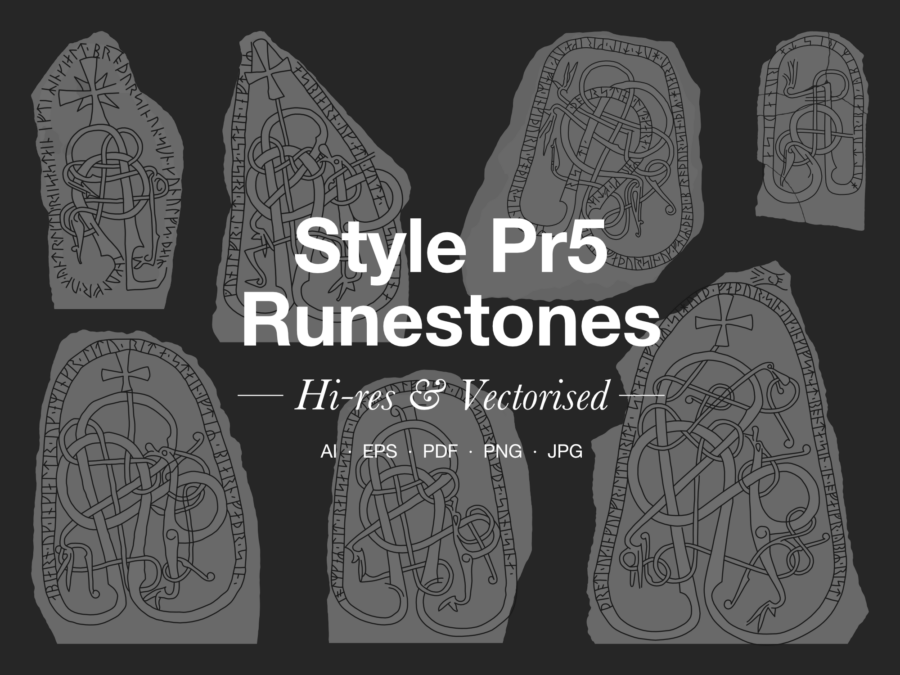 Style Pr 5 Runestones
A set of editable vector and hi-res graphics
From the Runestone Styles Series
The designs included in this set are illustrations of late Viking Age Scandinavian runestones in style Pr 5 from c. 1100 – 1130.
These runestone illustrations were created as part of a series covering the stylistic periods of ornamental runestone carvings and their historical and cultural context. The Runestone Style series is currently an ongoing project, and new runestone illustrations will be added as the project evolves.
New designs are first available exclusively on Patreon months before being publicly available as part of the graphics set on this page. Subscribe to the newsletter to get notified when new designs get added to this set.
Get early access to the most recent designs on Patreon.
By becoming a patron on Patreon or purchasing this graphics set, you support my continued work. Thanks to your support, I'll be able to keep sharing knowledge about Early Medieval Scandinavia and making it available for free to the general public.
If you find my work valuable, please name a fair price.
Thank you for your support. I appreciate it!
What's in the package
All designs included are available as
Vectorised EPS files.
Vectorised Adobe Illustrator files.
Vectorised PDF files.
Hi-res JPG files.
Hi-res PNG files.
$0+
Suggested price: $5
You can:
Use the designs in any way you want for your personal or commercial projects or products.
You can't:
Resell the files as is in any way (without first applying them to your project or product).