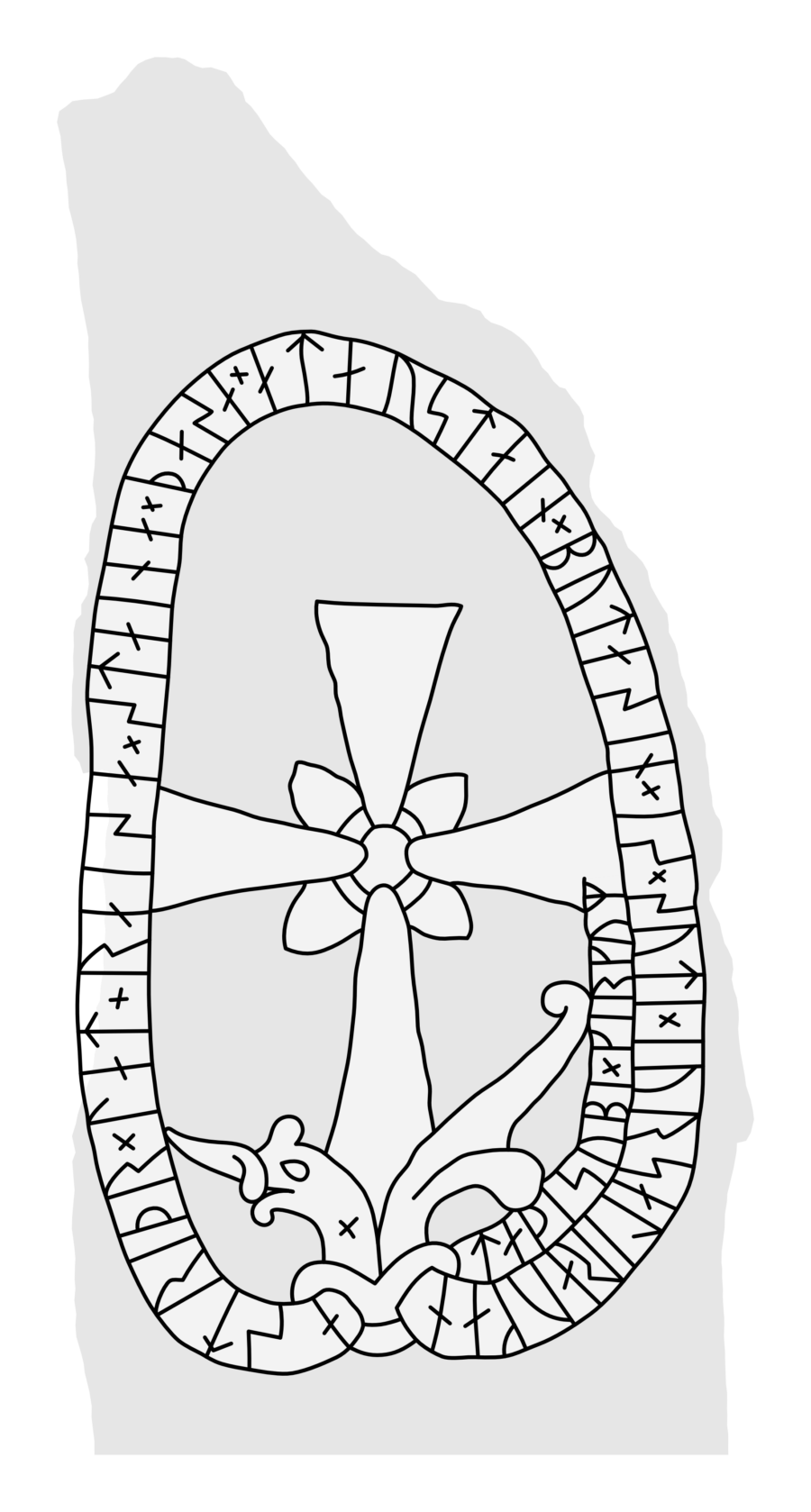 Runestone U 136
July 25, 2019
The carvings of the stone are in the runestone style Pr 2 (c. 1020-1050) pertaining to the Ringerike style.
The inscription is not signed.
The granite stone is c. 1,73 m tall and 0,85 m wide (across the centre of the cross).
Runic inscription
The rune text starts at the neck end of the animal.
Runes
× ᛅᛋᛏᚱᛁᚦᚱ × ᛚᛅ(ᛏ) + ᚱᛅᛁᛋᛅ × ᛋᛏᛅᛁᚾᛅ × ᚦᛅᛋᛅ × [ᛅ]ᛏ ᛅᚢᛋᛏᛅᛁᚾ × ᛒᚢᛏᛅ ᛋᛁᚾ × ᛁᛋ × ᛋᚢᛏᛁ × ᛁᚢᚱᛋᛅᛚᛁᚱ ᛅᚢᚴ ᛅᚾᛏᛅᚦᛁᛋ ᚢᛒ ᛁ × ᚴᛁᚱᚴᚢᛘ
Transliteration
× astriþr × la(t) + raisa × staina × þasa × [a]t austain × buta sin × is × suti × iursalir auk antaþis ub i × kirkum
Old Norse
Æstriðr let ræisa stæina þessa at Øystæin, bonda sinn, es sotti IorsaliR ok ændaðis upp i Grikkium.
English
Ástríðr had these stones raised in memory of Eysteinn, her husbandman, who attacked Jerusalem and met his end up in Greece.
———
Broby, Uppland, Sweden
U 136