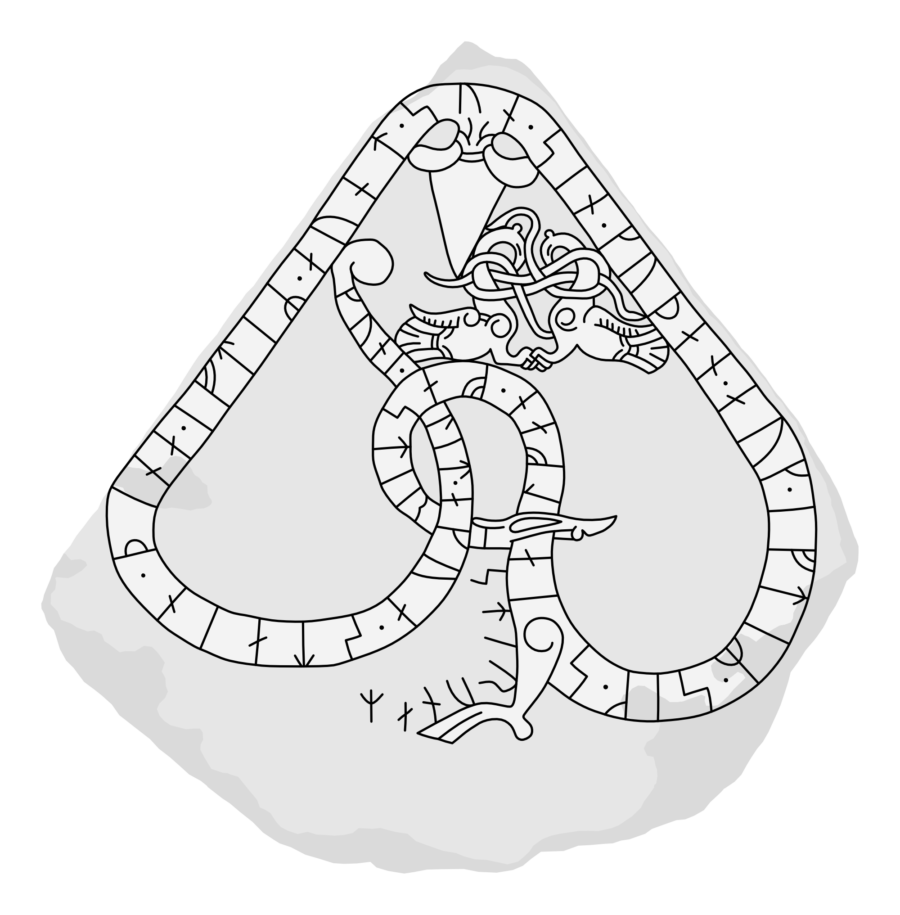 Runestone U 171
March 4, 2021
The carvings of the stone are in the runestone style Pr 4 (c. 1070-1100) pertaining to the Urnes style.
The inscription is signed by the runemaster Fasti, probably a nickname for 'FastulfR'.
The granite stone is c. 1,9 m tall and 2 m wide.
Runic inscription
The rune text begins at the tail end of the animal.
Runes
ᚴᚢᚾᛁ ᛫ ᛚᛁᛏ ᛫ ᛅᚴᚢᛅ ᛫ ᛋᛏᛅᛁᚾ ᛫ ᚦᛁ[ᚾ]ᛅ ᛫ ᛁᚠᛏᛁᛦ ᛫ ᛅᚢᚾᛏ ᛫ ᛋᚢᚾ ᛫ ᛋᛁᚾ ᛫ ᚴᚢᚦᛅᚾ ᛫ ᛅᚢᚴ ᛫ ᛁᚠ(ᛏ)(ᛁ)[ᛦ] ᛫ (ᛋ)(ᛁ)ᚴ ᛫ ᛋᛁᛅᛚᚠᛅᚾ ᛫ ᚠᛅᛋᛏᛁ ᚱᛁᛋᛏᛁ ᚱᚢᚾᛅᛦ
Transliteration
kuni * lit * akua * stain * þi-a * iftiʀ * aunt * sun * sin * kuþan * auk * if(t)(i)- * s(i)(k) * sialfan * fasti risti runaʀ
Old Norse
Gunni let haggva stæin þe[nn]a æftiR Øynd, sun sinn goðan, ok æfti[R] sik sialfan. Fasti risti runaR.
English
Gunni had this stone cut in memory of Eyndr, his good son, and in memory of himself. Fasti carved the runes.
Notes
Gunni also raised U 170 in memory of his son Eyndr.
———
Söderby, Uppland, Sweden
U 171