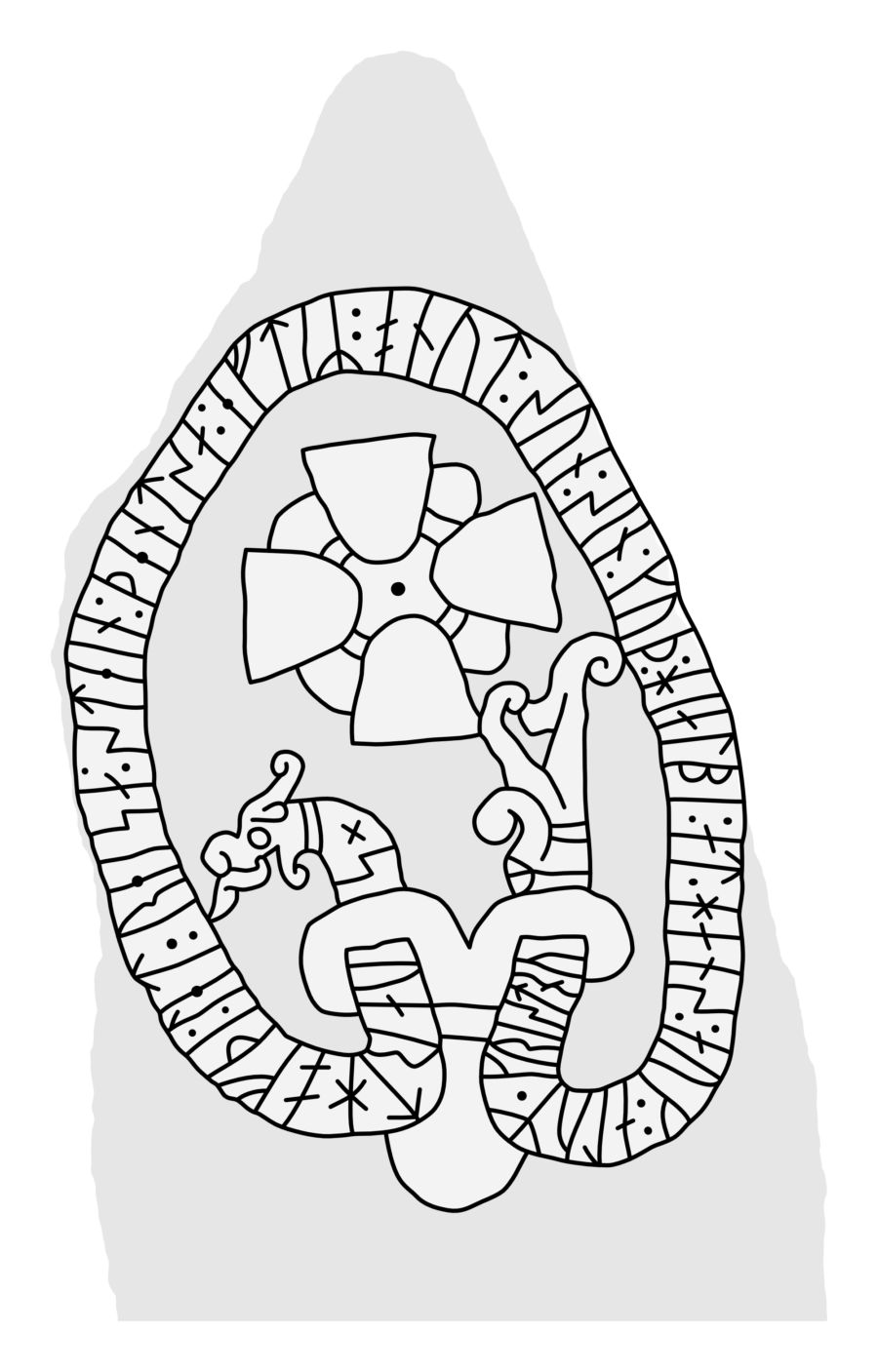 Runestone U 457
November 7, 2019
The carvings of the stone are in the runestone style Pr 1 (c. 1010-1040) pertaining to the Ringerike style.
Though the inscription is not signed, it is attributed to the runemaster Torbjörn for stylistic reasons.
The granite stone is c. 1,80 m tall and 1,00 m wide (across the bottom).
Runic inscription
The rune text begins at the head end of the animal.
Runes
× ᛋᚢᛅᚱᛏᚼᚯᚠᚦᛁ ᛬ ᛚᛂᛏ ᛬ ᚱᛂᛁᛋᛅ ᛬ ᛋᛏᛂᛁᚾ ᛬ ᚦᛂᚾᛏᛋᛅ ᛬ ᛂᚠᛏᛁᛦ ᛬ ᚯᚾᚢᛏ ᛬ ᛋᚢᚾ ᛬ ᛋᛁᚾ ᛬ ᚴᚢᚦ ᛬ ᚼᛁᛅᛚᛒᛁ ᛬ ᛅᛏ ᛫ ᚼᛅᚾᛋ ᛬ ᛅᚢᚴ ᛬ ᛅᛚᚢᛘ ᛫ ᚴᚱᛁᛋᛏᚾᚢᛘ
Transliteration
× suarthofþi : let : reisa : stein : þentsa : eftiʀ : onut : sun : sin : kuþ : hialbi : at * hans : auk : alum * kristnum
Old Norse
Svarthaufði let ræisa stæin þennsa æftiR Anund, sun sinn. Guð hialpi and hans ok allum kristnum.
English
Svarthǫfði had this stone raised in memory of Ônund, his son. May God help his and all Christians' spirits.
Notes
U 457 is probably one of several stones raised by members of the same family over the span of 25-30 years judging from the names and family relations described on the stones. They are, chronologically ordered from oldest to youngest, as follows:
U 457 was raised by Svarthǫfði in memory of his son Ônund.
U 458 was raised by Eistr in memory of his father Svarthǫfði.
U 459 was raised in memory of Eistr by his son Saxi and his mother Thorgunnr.
U 461 was also raised in memory of Eistr by his sons Fastulfr, Œringr, Geirr, his daughter Holmlaug and his wife Fastlaug.
If the assumptions about the connections between these inscriptions are correct, then Eistr must have owned both Skråmsta and Thorslunda. Skråmsta was his paternal farm, which was previously owned by his father Svarthǫfði and where his mother Thorgunnr and his son Saxi now lived after his death. He must have acquired the Thorslunda farm through his marriage with Fastlaug, where she now lived together with his other children after his death.
———
Skråmsta, Uppland, Sweden
U 457