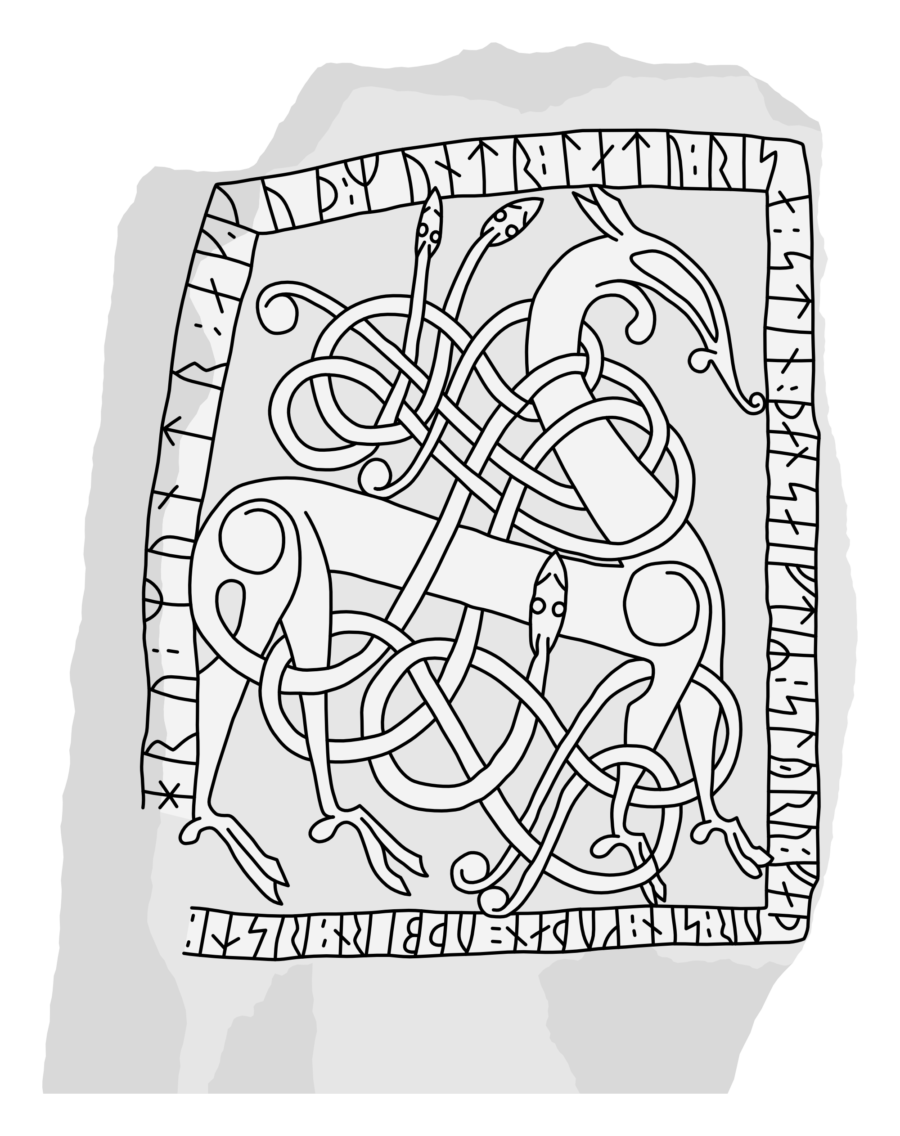 Runestone U 692 Front
July 30, 2020
The carvings of the stone are in the runestone style Pr 4 (c. 1070-1100) pertaining to the Urnes style.
The inscription is signed by the runemaster Auðbjǫrn.
The granite stone is c. 1,37 m tall and 0,80 m wide.
Runic inscription
The rune text begins at the bottom left corner of the stone and reads clockwise along the edge.
Runes
ᚼᚱᚢ᛬ᛘᚢᚾᛏᚱ ᛬ ᛅᚴ ᛫ ᚴᚢᚦ᛬ᛘᚢᚾᛏᚱ ᛬ ᛚᛅᛏᚢ ᛬ ᚱᛁᛋᛅ ᛬ ᛋᛏᛁᚾ ᛬ ᚦᛅᚾᛋᛅ ᛁᚠᛏᛁᛦ ᛬ ᛋᛚᚤᚱᚢ ᛬ ᚠᛅᚦᚢᚱ ᛬ ᛋᛁᚾ ᛬ ᚴᚢᚦᛅᚾ ᛬ ᚢᚦᛒᛁᚱᚾ ᛬ ᚱᛁᛋᛏᛁ ᛬
Transliteration
hru:muntr : ak * kuþ:muntr : latu : risa : stin : þansa iftiʀ : slyru : faþur : sin : kuþan ÷ uþbirn : risti :
Old Norse
Hroðmundr ok Guðmundr letu ræisa stæin þennsa æftiR Sloru(?)/Slyðru(?), faður sinn goðan. Auðbiorn risti.
English
Hróðmundr and Guðmundr had this stone raised in memory of Slóra(?)/Slyðru(?), their good father. Auðbjǫrn carved.
Notes
U 692 is the only runestone signed by Auðbiorn. The name 'slyru' is also mentioned on Sö 183 (spelled 'sluru').
———
Väppeby, Uppland, Sweden
U 692