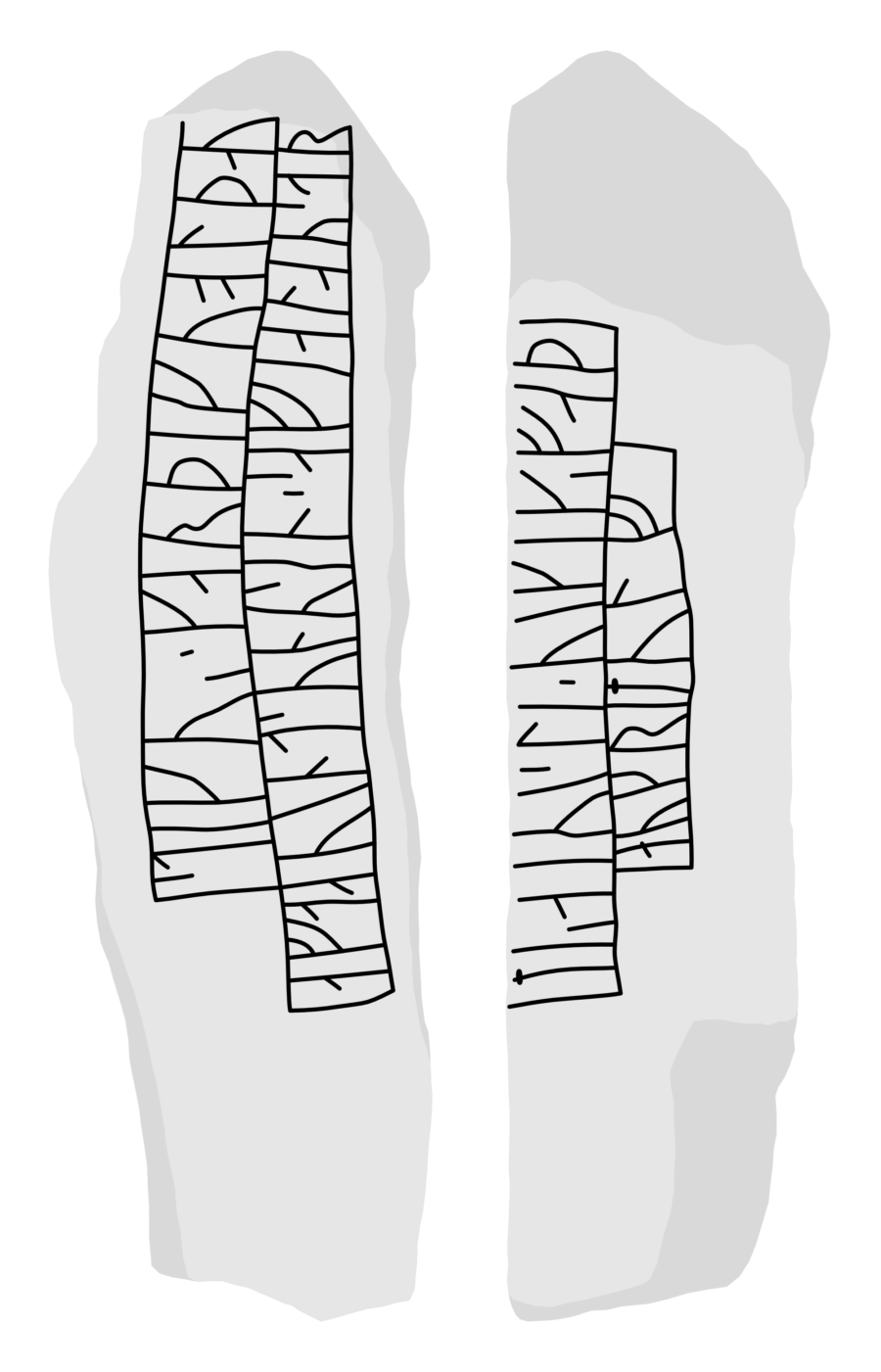 Runestone Ög 8
January 20, 2022
The carvings of the stone pertain to the group of unornamented runestones known as RAK (c. 980?-1015) contemporary with the early Ringerike style.
The inscription is signed by Víkingr and Grímulfr.
The granite stone is c. 1,90 m tall, 0,50 m wide and 0,50 m thick.
Runic inscription
The first part of the rune text begins at the bottom left corner of the left side of the stone. The second part continues on the right side.
Runes
[1] ᛌᛐᛁᚴᚢᛧ ᛫ ᚴᛆᚱᚦᛁ ᚴᚢᚮᛚ ᚦ(ᛆ)=(ᚢ) ¶ ᛆᚠᛐ ᛆᚢᛁᚿᛐ ᛌᚢᚿᚢ ᛌᛁᚿ ᛫ ᛌᛆ ᚠᛁᛆᛚ ᛆᚢᛌᛐᚱ [2] ᛙᛁᛧ ᛆᛁᚢᛁᛋᛚᛁ ᛫ ᚢᛁᚴᛁᚴᛧ ᚠᛆᚦᛁ ¶ ᛆᚢᚴ| |ᚴᚱᛁᛙᚢᛚᚠᛧ
Transliteration
stikuʀ (') karþi kubl þ(a)=(u) aft auint sunu sin ' sa fial austr miʀ aiuisli ' uikikʀ faþi auk| |krimulfʀ
Old Norse
StiguR/StygguR gærði kumbl þau aft Øyvind, sunu sinn. Sa fioll austr með Æivisli. VikingR faði ok GrimulfR.
English
Stigr/Styggr made this monument in memory of Eyvindr, his son. He fell in the east with Eivísl. Víkingr coloured and Grímulfr.
———
Västra Stenby, Östergötland, Sweden
Ög 8