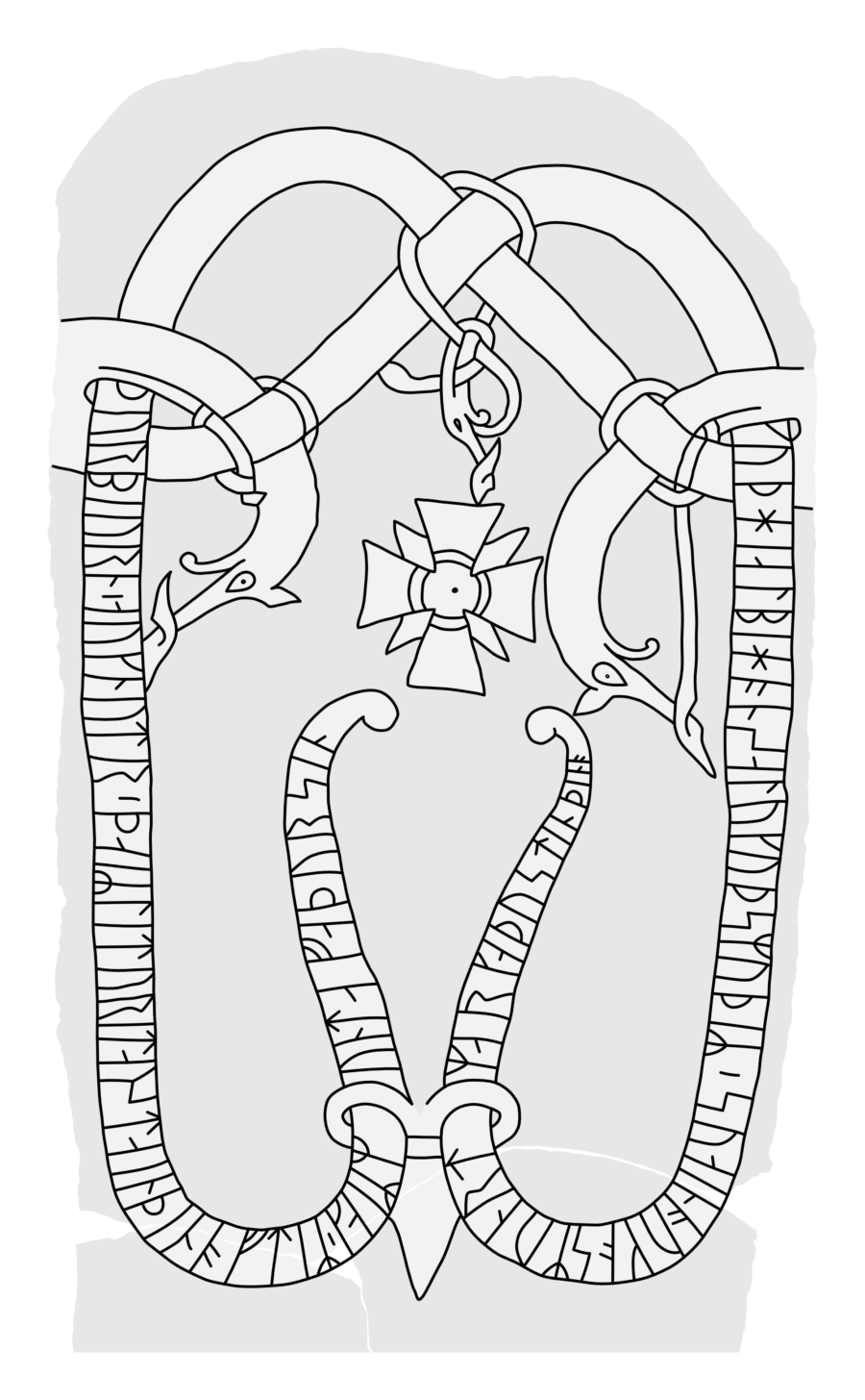 Runestone U 1149
August 29, 2019
The carvings of the stone are in the runestone style Pr 2 (c. 1020-1050) pertaining to the Ringerike style.
The inscription is signed by the runemaster Åsmund (and Sveinn).
The granite stone is c. 2,20 m tall and 1,25 m wide.
Runic inscription
The rune text starts at the neck end of the animal.
Runes
ᚦᚢᚱᛒᛁᚢᚱᚿ ' ᛆᚢᚴ| |ᚴᚿᚢᛏᚱ ' ᚦᛆᛁᛦ ᛚᛁᛏᚢ ᚱᛁᛏᛆ=ᚢ ᛋᛏᛆᛁᚿ ᚦᛁᚿᚭ| |ᚭᚠᛏᛁᛦ ' ᚴᛆᛁᛦᛘᚢᚿᛏᛆ ᚠᛆᚦᚢᚱ ᛋᛁᚿ ᚴᚢᚦ ᚼᛁᛆᛚᛒᛁ ᚼᚭᚿᛋ| |ᛋᛆᛚᚢ| |ᚢᚴ| |ᚴᚢᚦᛋ ᛘᚢᚦᛁᛦ ' ᛋᚢᛆᛁᚿ ᚭᚢᚴ ᚭᛋᛘᚢᚿᚱᛏ ᛘᛆᚱᚴᛆᚦᚢ ᛋᛏᛁᚿ ᚦᛁᚿᚭ
Transliteration
þurbiurn ' auk| |knutr ' þaiʀ litu rita=u stain þino| |oftiʀ ' kaiʀmunta faþur sin kuþ hialbi hons| |salu| |uk| |kuþs muþiʀ ' suain ouk osmunrt markaþu stin þino
Old Norse
Þorbiorn ok Knutr þæiR letu retta stæin þenna æftiR GæiRmunda/GæiRmund, faður sinn. Guð hialpi hans salu ok Guðs moðiR. Svæinn ok Asmundr markaðu stæin þenna.
English
Thorbjǫrn and Knútr, this had this stone erected in memory of Geirmundi/Geirmundr, their father. May God and God's mother help his soul. Sveinn and Ásmundr marked this stone.
———
Fleräng, Uppland, Sweden
U 1149